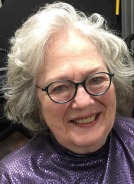 Marilyn Carnell




Some people meticulously plan their lives – not me. I have wandered from point to point apparently without aim – I call it "sifoddling along", a term my Mom used, sometimes in exasperation. "Where's Billy?" someone might ask. "He is on his way home, probably sifoddling along, looking to find a treasure, or dreaming about a cloud."
I grew up in McDonald County, Missouri in the extreme southwest corner of the state. We lived in Pineville, a small hamlet frozen in time. A village raised me in every sense of the term. In a town of about 400, WWII made it even smaller. Able bodied people were serving their country elsewhere. I was related by blood or friendship to all of them. My first 20 years were planned for me: beginning school at 6 (no kindergarten) finding I had not been taught my ABC's like my classmates impelled me to be a quick learner.
After high school, I continued my education in a typical erratic fashion: Stephens College (A.A.), the University of Missouri (B.S.H.E.). My plans were to become a Registered Dietitian. Worked on a Masters in Nutrition at the University of Iowa (I could not be considered a dietetic intern due to being married and pregnant. So much for plans); eight years later, a MPH in Nutrition from the University of Minnesota (finally becoming a Registered Dietitian) and at age 38, offered a graduate assistanceship to earn a PhD in food science.
My wanderings took me to live in seven different states, visit 48 states (I have missed Alaska and Vermont to date). My work experience is also varied and almost random: jobs at the Universities of Missouri, Iowa and Minnesota, Fortune Five Hundred companies (General Mills and Campbell's Soup), small companies (New Generation Foods (wheat snacks); Williams Foods (spice mix manufacture).I gained experience in nutrition, quality assurance, government relations, and other skills. In retirement, I returned to McDonald County and was, active in Community Development – Mayor of Pineville, board member of McDonald County Economic Development, Sugar Creeks Betterment, Elk River Watershed Protection.
Along the way I maintained my interest in writing. At Stephens, a creative writing class whetted my interest; in all of my jobs I wrote brochures, booklets and eventually grant proposals. I was successful in replacing a waste water plant, establishing a primary health clinic, funding for Art Walks and producing a folk history play. I wrote three articles for Better Homes and Gardens in the 1990's but didn't pursue writing further until I moved to Minnesota in 2011. My special interest is the Ozark culture and its idiosyncrasies. No doubt truth is stranger than fiction. My column will record some of them and I may sifoddle along to other topics.