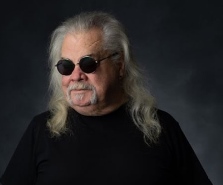 Dayvid Clarkson




Old Hippie, Biker, Ex-Banker, Monk — You figure it out… Born on Vancouver Island and currently residing in Cedar, Vancouver Island, British Columbia, Canada –eh, trying to figure out what I want to be when I grow up.
I discovered that I was on a spiritual journey at a very young age. I have been a Seeker ever since then and continue to joust with the windmills in my mind.
I am a voracious reader, writer, poet, wood, and stone worker. While the process of creativity is a reward unto itself, if it is not shared it is but fruit withering on the vine. You don't have to be an 'Artiste' or a 'Writer'. Screw the conventions of structure, horizon lines, grammar, and the other barriers the snobs throw at you. Simply create. We are missing so many good stories that once were the basis for all of our advancements because folks don't think they can measure up to the 'Authors' of this world. Your writing might not be pretty, but I will wager many could read and understand. Do something, write something, take a picture, finger paint, start a blog — do something.
| | |
| --- | --- |
| Current Photo | |