Cookin' With Leo
By Leocthasme
Stuff To Enjoy Playoff or Super Bowl Games By
Well now, it is that time of year again. And I know all my Yankee pals are all sittin' around the TV, and my new found Texas pals are fightin' for Cowboy Tickets or pushin' everybody away from the front of the TV or even getting' a big wall size one so the whole gang can see. Whatever is going on at your place, here is something you all need to have around beside the usual CKA that somehow Texans think is drinkable. Here are some things that ain't always found on the tailgate of the pickup, but will sure please them tailgaters no matter where they find it.
Winter Warm-Up Apple Cider
A great greeter
Ingredients
4 oz. Apple cider or apple juice
1 teaspoon brown sugar
1/4 cup light or dark rum
1/4 inch slice of stick butter (optional)
Nutmeg
Cinnamon stick
Preparation
In a large coffee mug pour in the cider or juice. Stir in the brown sugar Microwave for about 1 to 11/2 minutes to get that nice and warm but not boiling hot. Add the rum and stir slightly. Float the slice of butter on top. Sprinkle nutmeg on top and use a nice cinnamon stick as a stirrer.
Have enough cider or juice and rum for the whole gang.
And here is something you might ask mom to add to the festivities.
Molasses cookies
You can dunk these in the Apple Cider
Ingredients
1-1/2 cup sifted flour
3/4 teaspoon baking soda
1/2 teaspoon salt
1/2 cup shortening
3/4 cup sugar
1 egg
1/4 cup molasses
1/2 cup coconut or raisins
1/2 cup chopped nuts
1 cup sugar for dipping cookies

Preparation
Sift flour, baking soda, and salt together. Cream the shortening, sugar, egg, and molasses together. Add raisins, coconut, and nuts gradually and mix thoroughly. Chill. When ready to bake, heat the oven to 375˚F. Roll out dough on a floured board to about ¼ to ½ in thick. Cut cookies with a round cookie cutter. Dip each cookie in the sugar and set on lightly buttered cookie sheet. Bake for about 10 to 12 minutes. Don't let them get too brown.
An Ya'll have a Happy New Year
An' may the best team win.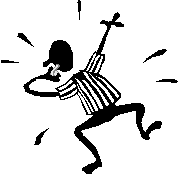 ---
Click on author's byline for bio and list of other works published by Pencil Stubs Online.
---