Irish Eyes
What could I say about Peggy?
Nothing but the truth.
I loved her songs and her singing
I heard away back in my youth.
Her songs were food to my Soul
Her voice was a thrill to my ear.
I loved her then as a child,
It was mutual and sincere.


I love her today as a friend
And the memories shared together.
Her songs still lift my soul
Like the lark warbling o'er the heather.
What can I say about Peggy?
Thanks for the joy she has given.
Blest be the dawn of our friendship
When Peggy was only seven. ----Dan Keane
The above, written in perfect Copperplate, was handed to me by octogenarian Kerry poet Dan Keane when I told him I was writing a piece about Peggy Sweeney.
When I met and talked to the singer herself she spoke in equally glowing terms of Dan. But, then, she struck me as the kind of person who would have great difficulty speaking unkindly of anyone. Any mild criticism of a fellow human being seemed to be invariably followed by. "Ah ... he (or she) is alright".
Peggy was born in Rathea, Co. Kerry, the second youngest of seven children.
My hinted request for a D.O.B. [Date Of Birth] was met with Kerry specificness; "In the second half of the last century".
When I point out that David Mamet, in his book True and False, claims that nobody with a happy childhood ever went into show business the tumultuous reply is like the Smearla river in flood. I am left in no doubt about her happy childhood, despite the fact that her father died when she was only six. Her grandfather was a very good fiddle player and by the time Peggy was a year-and-a-half old she was able to hum the tunes that he played for her. Her father was a dancing teacher and her mother, a beautiful singer, (who was very much a woman before her time), taught her all her songs.
She emphasizes that she grew up in a house of laughter, song and dance "which brought us all a long way, the day wasn't half long enough for us and if I had to do it all over again I'd do the very same thing".
Peggy can, in the words of Thomas Prior, " ... answer to the truth of a song". When she sings "Rathea In County Kerry" written for her by cousin, Brian Burke, you get an example of that.
When I think of the days that once I spent
In the hills of County Kerry
Those happy days before I went
And took the Holyhead ferry.
Well we danced and we sang
'Til the morning shone shone,
Though my grief I try to bury
For our lives were free in good company
In Rathea in County Kerry.
A story emanating from the Presentation Convent in Listowel has a two-pronged connection with W.B. Yeats (first it brings to mind his line:" I made my song a coat"). When Sister Austin asked Peggy to recite "The Sally Gardens" the quietly confident child recited a line or two and got stuck; only to then volunteer, " I can't recite it Sister ... .but I will sing it".
From an early age she competed. But competition is not her forte and she says:" I had to compete." Adding modestly, "I won a couple of All-Irelands with the Lixnaw branch of Comltas".
She competed, as a member of Scor, and left unbeaten in Kerry or Munster and believing that competition destroys the love of singing. " When I reached the age where I didn't have to compete any more that's when I really enjoyed singing".
---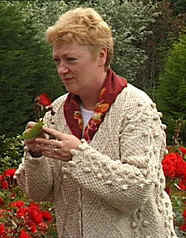 She has also judged competitions. That is not her favorite exercise either but her advice to young singers is: "Enjoy what you're doing, I like to see a child - or an adult - enjoying their song".
She tells beginners to pick a simple song and work up from there. She believes that a child competitor should always be put at ease and not pressurized into competing, by anybody.
Although she grew up among a lot of famous people (Bryan McMahon, et alia) from Listowel and the surrounding area, she says that she didn't see them as famous; she knew them all so well.
Talk of John B. Keane brings her to her other great love, amateur drama. She says," I love being somebody else for a couple of hours".
I didn't have the neck to quote David Mamet for a second time. And anyway I can't vouch for the validity of his claim that " ... .the person onstage is YOU. It is not a construct you are free to amend or mold. It's you. It is YOUR character which you take onstage".
The great thespians of the world might not agree with Peggy's claim that to do one of John B's plays you have to be from Kerry. "The only accent that would lend itself to one of his plays would be the Kerry accent".
She sang for Presidents ... but her fondest memory is of the night she performed in the National Concert Hall with the late Eamon Kelly. She says; "I was nervous but Eamon was twice as nervous".
She made her first album " The Songs of Sean McCarthy" in January 1991, just two months after Sean McCarthy had called her to his deathbed and requested that she record his works. This was followed by "The Cliffs of Dooneen", "The Turning of the Tide" and "More songs of Sean McCarthy". "The Songs of Sean McCarthy" was released on video in August1999.
*******************************************************************************************************************
Her latest album "Kerry; A Kingdom of Song" is also due out on video before Christmas.
( Of course any Kerryman will tell you that there are only two Kingdoms: the Kingdom of God and the Kingdom of Kerry.
"One is not of this world and the other is out of this world"
Well, now there are three. "A Kingdom of Song" is the title of Peggy Sweeney's new album of Kerry songs. As. The sleeve of "A Kingdom of Song" appropriately shows a map of Kerry. The 15 songs take you on a musical trip from Duagh to Dingle and from Tarbert to Rathmore.
.
"The Valley of Knockanure" (that all too familiar story of young Irishmen shot by the Black-and-Tans) has been recorded by many artists. But when I heard this version I couldn't help thinking that the song was just waiting for Peggy Sweeney to sing it.
Mick McConnell's "The Tinkerman's Daughter" and "Brosna Town", two very moving songs have taken on a new lease of life.
"The Hills of Kerry", "Lovely Banna Shore" and the Jimmy McCarthy composition, "As I Leave Behind Neidin" are the stuff to moisten the eyes of an exile.
"Ballyseedy Cross" and "Lonely Banna Strand" tell further tales of men who gave their lives in the cause of Irish Freedom.
It features a refreshing rendition of a song that I hadn't heard for decades; "The Young Youth Who strayed From Milltown" as well as "The Wild Colonial Boy" and "Killarney and You".
That old favourite, the universal anthem of Kerry, "The Rose of Tralee", "Lovely Banna Shore" written by Peter Kelly and the Stack brothers, John and Pat and "The Wild Flower of Laune" written by Myles Coffey and Peter Joy are all given suitable treatment by the woman that this reviewer calls "The Voice of Kerry".
And there is of course that tribute to her own native town land,mentioned earlier, "Rathea in County Kerry"

I'm sure almost everyone in that close-knit community around Rathea would agree with the letter, which Andrew Fletcher of Saltoun sent to the Marquis of Montrose et al:

".......if a man were permitted to make all the ballads, he need not care who should make the laws of a nation".
Maybe you can't make the laws of a nation.....or even write a ballad but you can enjoy the best recording of 15 Kerry songs that you are likely to hear.

Kerry, A Kingdom Of Song is now available on Cassette and CD. It will also be available early next year on Video with the breathtaking scenery of Kerry added to the singing of these wonderful songs.

The perfect diction and beautiful voice moistened many an exiles eyes during her several tours of Britain, as Bean-a-Ti, with The Irish Rambling House Concert group. She agrees with Charlie Landsborough that the ability to give a spititual message through songs is "a Blessing from above".
When her old school friend, Kay Forristal, brought out her book of poems New Beginnings Peggy wrote the Foreword.
"Spirituality is free flowing and ever changing. This aptly describes the connecting relationship between Kathleen and I. We have known one another since childhood yet, neither time or distance has failed to quench this unseen dimension of our lives.
"Our spirits have been inextricably linked through the medium of verse and song. Through this thought-provoking book, we celebrate decades of true friendship and inherent spirituality".
What (more) could I say about Peggy?
*******************************************************************************************************************
MOONSTRUCK
Recently while listening to Peggy Sweeney singing "Oh The Pale Moon was ris...."
If I were the moon I'd feel a bit peeved. OK, the rising of the moon is well documented. Poets revere it, artists immortalize it and it even seems to have played a significant role in Ireland's fight for freedom. What with shining on dying rebels and casting it's beams over shining pikes. And didn't Lady Gregory have plans to ;".....all change places at the rising of the moon"? Once it rises majestically into the night sky we have numerous requests for it; "guide the traveler his way". ".....shine on the one I love" and many more.
But when did you last hear a romantic ballad about "The Setting of the Moon"?
I'm after scanning a list of jigs, reels and hornpipes and I couldn't find one tune named after the aforementioned phenomena. You can go through every housing estate in Ireland and you won't find a setting moon depicted in a wrought-iron gate. It is inspiring when "rising over Claddagh", Dancing on Monan's rill" or even hiding: "behind the hill". (Although the latter position can draw some criticism. (An old friend of mine.........was walking in Ballinastockan one dark night when he, involuntary, left the road and dropped a few feet into an unfenced field. On extricating himself from the briars, the, more printable extract of his comment was: "......... curse o' God on you for a moon, you'd be shinin' of a bright night".)
Why is there not one word of praise for the moon going down? Surely there is some form of moon-loving flora, which "turns to her God when she sets". Well if there is Thomas Moore mustn't have known about it. Coleridge was there as ; "The moving moon went up the sky", but he must have retired before it.
Why don't we see a beautiful Colleen with an Irish Wolfhound, at a round Tower backed by a beautiful moonset?
Have you ever felt compelled to write about the setting moon? I must say I haven't, because in all fairness I have to say I haven't ever seen a moon set. And come to think of it even my philosophical friend in West Wicklow, who was somewhat of a nocturnal rambler, didn't say he had ever witnessed the lunar setting. ( He did once claim that America was farther away than the moon; on the grounds that you can see the moon......)
So maybe the oppressor got the celestial bodies mixed up. Perhaps it was the MOON that didn't set on the Empire!