CAST
The sculptured dead,
On each side, seem to freeze.
(Keats)
If I were of the other gender I would probably be throwing items of underwear at a statue in Mullingar; so lifelike is the effigy , in bronze, of Joe Dolan. His Brother, Ben, described it as "a great likeness".
| | |
| --- | --- |
| The monument to "The bachelor from Westmeath" which was unveiled on Sunday 07th December 2008 was cast in the foundry of two other talented men.. | > |
You are all familiar with the former but how much do you know about the latter two?
Leo Higgins was born in Dublin in 1951. He is a founder member of the Sculptors Society of Ireland. He lectures part-time at The National College of Art & Design, Dublin and was winner of the Oireachtas Prize for sculpture in 1984 and 1985 and has the following awards under his belt:
Oireachtas Prize for Sculpture
Polish Biennale "Art of Architecture"
Pillar Project (with Shane O'Toole)

In 1986 Higgins started a ten year, one-day-a-week teaching stint in NCAD and in 1987, with Belmullet-born Colm Brennan he started Cast Foundry. Colm works mostly in bronze or a combination of bronze and stainless steel and his work can be seen from Belmullet to Belfield. He worked as a joiner before becoming a teacher, first of Building Construction then of Woodwork and Technical Drawing and later of Art.
Leo went to London aged twenty-one and worked for ten years in a foundry. He now says that casting and making things in metal is, "What I absolutely want to do". He considers himself "extremely lucky as I have the foundry and I also get to make sculpture". However, he points out that "it's bloody hard work".
There is no Dub/Culchie barrier here; art supersedes all boundaries. In an article, art critic and playwright, Brian Mcavera refers to their contrasting backgrounds
One: " . . . a countryman sieved through with memories of his childhood in Ballina. Plugged into the Irish language, Irish mythology and the archaeology and geology of the Irish countryside".
The other is: " . . . an urban Dubliner rooted in a cityscape pierced by the Liffey . . . who revels in the English language as written by Joyce or spoken by Dubliners".
When I visited the foundry, in the heart of Dublin's "Liberties", with Leo's cousin Kevin I was confronted by busts of Presidents, sportspeople, dogs and pop idols. My little knowledge of casting (in plaster) enabled me to drop terms like 'thixirophic additive,' 'Lost wax method' 'Gestural quality' and 'Ormolu.' I was holding my own (until I went too far.) When I ventured the comment, "Three thousand year old bronze foundries have been found in Vietnam", one of Leo's craftsmen, with a molten-metal splattered apron, Dublin accent and an encyclopedic knowledge of the art said, " what are ye bleedin' talkin' about? There are bronze, Palstave, axe- heads in the National Museum dating to 2000 BC."
The art of casting in bronze (90% copper and 10% tin) is thousands of years old. The first experimental Bronze Age horn cast in Ireland in modern times was made by Leo Higgins and Colum of CAST in 1990. It is due to be displayed at the Museum of Galway.
The bronze pieces turned out by Cast are many and varied; from Paul Ferriter's "Seve Ballasteros"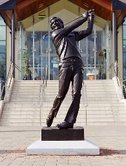 to Caroline McCarthy's "Bronze Couch" (the mould for which was taken from an actual leather couch).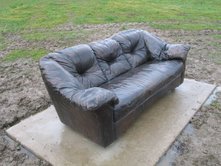 Work by such famous artists as, Liz O' Kane, Brian King, Anthony Scott, Bob Quinn, Paddy Campbell and John Behan has been "cast by Cast".
| | |
| --- | --- |
| | Eamon O'Doherty's "Floozie in the Jacuzzi" left the furnaces at 1a South Brown Street Dublin 8. |
You'll find them at www.cast.ie
---
Click on author's byline for bio and list of other works published by Pencil Stubs Online.
---