Patrick Kavanagh said that no one could write a comprehensive account of Irish life who ignored the Gaelic Athletic Association. Likewise, any attempt to chronicle events of the last century would be far from complete if CIE was omitted.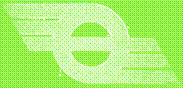 CIE as a semi-State body was founded in 1945. From 1950 it brought out an "in-house" magazine. THE LINK  ran from 1950 and was replaced by  NUACHT in  the 'nineties . The last NUACHT   rolled off the presses in 2003.
   Thanks to a few dedicated employees most of these publications have been rescued from the jaws of obscurity. And now they are about to "share the transport (publications)" with all on DVD.
The first edition of the Link dated 24th November 1950 published a letter from the CIE Chairman;
"Dear Mr. Editor,
On the occasion of the first issue of The Link I want to offer you my best wishes for the success of the paper.
   I feel sure that you, and your colleagues who contribute, or otherwise help, will do everything that can be done to make The Link a staff paper which will, as its name suggests, bind together the members of our staff in all grades and in all places throughout the country.
   I ask every CIE man to become a regular reader and in this way co-operate with you in developing a spirit of unity and good fellowship in our organisation.
                                                                                               Yours sincerely
                                                                                                       T. C. Courtney.
   The Editor, Frank Finn, thanked all contributors for, " . . . articles, notes, news stories and pictures which have helped me to fill this issue".
Charles Bianconi,
the pioneer of public transport in Ireland
The first issue carried articles on subjects as diverse as Charles Bianconi, the pioneer of public transport in Ireland , "The Goats of Westport"  new loading gear for loading cattle on aircraft and an advertisement from  Cotts of Kilcock, " Ireland 's biggest Mail-Order store". In June 1951 the CIE lost property department had a "lost go-car" on its hands.
| | |
| --- | --- |
| | Example of Issue |
And in the Small ads section of May 11th 1952 you could have purchase a beautiful 3-plate electric cooker for £17 10 shillings. Decades of "Gleanings from the garages", "Capital News", "Notes from the provinces", "Greetings from Christmas travellers" and accounts of funny happenings within the company are all there.
When the Nuacht came on it was soon published in full colour and had the effect of bringing employees, with a literary bent, who were shy about their scribblings, "out of the closet". There is now in existence the "CIE Writers' Group" which brought out a collection of short-stories, poems, essays and articles in 2005. The title of the anthology was, "There's Love  And There's Sex and There's The 46A" with a foreword by Professor Brendan Kennelly who described the contributors as, " . . . writers, . . . keen listeners, sharp observers, constantly in touch with the foibles of humanity and, most striking of all they are gifted storytellers". The group is now on the lookout for people to contribute to a second collection. And it all started with The Link and Nuacht.)
   If you worked for CIE and did anything newsworthy, from " missing a free" to acting as midwife on a crowded bus, there is a good chance that you are in there somewhere. If there was a picture of, or an article about, you or yours in any of these magazines now is your chance to re-capture the past.
Pictures Included
(example) - For larger view, click here

(Try clicking the resulting pic for an even larger view, as that works on some computers.)
DOWN THE DECADES WITH THE LINK  AND NUACHT , on DVD is now available. Details from; ciewriters@gmail.com: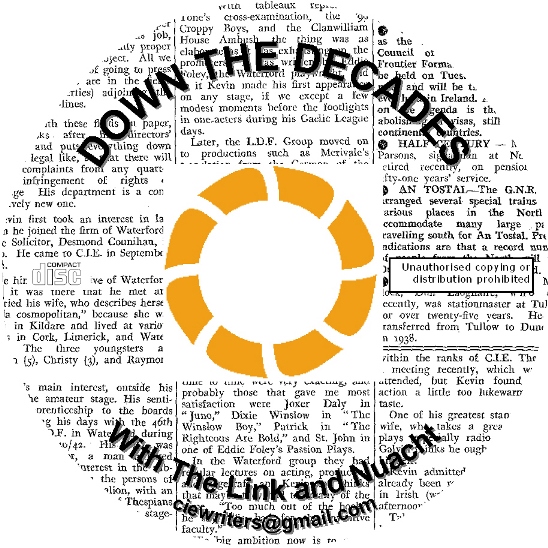 ---
Click on author's byline for bio and list of other works published by Pencil Stubs Online.
---