Irish Eyes
The Butcher Boy
In the early sixties we, on this island, gradually re-ignited a pride in our treasury of Irish ballads. A young man singing "The Rocks Of Bawn" was no longer perceived as a primitive rustic and mini-skirted cosmopolitan females could be heard doing justice to "The Boys Of Barr Na Sraide".
This revived interest in our native songs was the first move towards shaking off our shackles of inferiority. We owe thanks to a small minority. Leo Maguire, on the Saturday Walton Programme gave us "the songs our fathers loved" and Ireland Own provided a weekly diet of song words. Liam Clancy with his brothers and Tommy Makem were making the "come-all-ye" respectable in Greenwich Village while, in Merrion Row, Ronnie Drew and the boys were getting ready for forty odd years on the road. The two Warfields along with Noel Nagle and Tommy Byrne were fusing into The Wolfe Tones.
As The Butcher Boy was becoming compatible with drainpipes, DA haircuts and Winkle-pickers a young apprentice butcher in Blessington was doing his bit. While the cleaver fell on the convex block in Bohan's Victuallers as comely housewives ordered "a bit o' stewing steak" folk songs inhabited the teenage head of Manor-Kilbride born Shay Eustace.
| | |
| --- | --- |
| When he had mastered the guitar, mandolin, and tin-whistle he set up his first ballad group. With him were Sean Healy, Mick Brady and Tony Bird. All had spent their formative years, "surrounded by the Wicklow mountains high" so the name of the group "The Mountain Folk" was a foregone conclusion. | |
Eventually the other members embarked on different pursuits and Shay joined "The Texans", a showband which leaned towards Country and Irish. He did stints with "Liffey Beats", and "Country Rock" but "pure Folk" was always beckoning.
Since founding "Celtic Mist" in 1991, he has surrounded himself with the finest musicians, married the lead vocalist, Margaret, played to packed houses in Ireland and taken the group on tour all over the world. "Hard Times Come Again No More" is their fourth and most eclectic CD since the new millennium.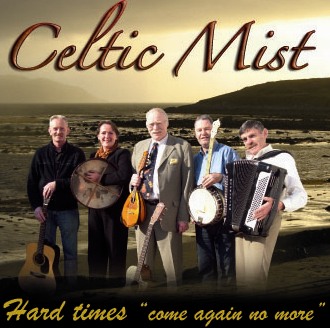 It features, as well as the title track, old favourites such as "Danny Boy" and "The Maid Of Fife". There is the patriotic ballad "The Galtee Mountain Boy" and "Shannonside " written by Finbar Furey. Pete St. John's "Ferryman" is also there. "Ireland My Ireland" was written by Irish-Canadian singer/songwriter Bob Shortt and a special arrangement of it is sung here by the author and Margaret Eustace. There are three tracks of reels, jigs and hornpipes and that saddest of Scottish songs, "Glencoe".
Shay is also a writer and broadcaster. His music reviews have appeared in several prestigious music magazines and "Shay's Ballad Hour" has been running on successive radio stations for more than thirty years. He first broadcast with "Treble TR" in the seventies and later with "Radio Dublin". His familiar sig tune, "The Foxhunter's Reel" (by the Chieftens) can now be heard on Tallagh FM. (Jockeys have their "lucky silks " and many actors won't go on stage without certain possessions but Shay refuses to "appear" on radio without a tie)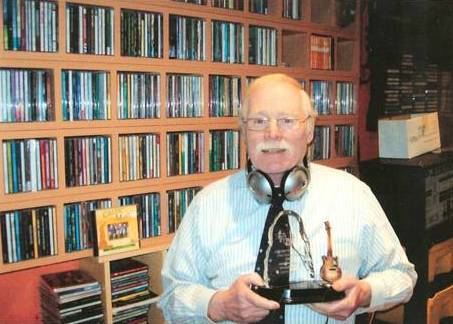 Last year, at the Irish and Country wards Shay was presented with an award in recognition of his contribution to the Irish Music scene
Juxtaposed with all that was three decades as a successful retail butcher in Dublin's Meath Street. He has sold the business in Dublin and now the (ex) butcher boy from Manor Kilbride is finally a full time musician. It's hard to know whether he's talking about spouse Margaret or quoting Stephen Foster when he says, "My wife is a most known woman".
---
Click on author's byline for bio and list of other works published by Pencil Stubs Online.
---