Irish Eyes
From Mcgettigan's Field To Gaelic Park
"My bother was telling me how one lovely Sunday morning he was taking a stroll outside San Francisco on the edge of the Pacific, when he saw, hurrying with little bundles under their oxters, men of rural Irish complex. Sometime later he came on a Gaelic football match in progress. Everything was as at home . . . not a man of them had ever left home and the mysterious Pacific was just a bog-hole gurgling with eels and frogs. Yet there was something queer and wonderful about the sight . . . or the thought" (Patrick Kavanagh) Kavanagh was no great shakes as a goalie for Enniskeen Grattens and he even went so far as to argue that since Joyce only mentioned sport once in Ulysses it couldn't be very important. Yet he acknowledged that it was wonderful when Irish men brought their Gaelic games across the world. And they are doing it still.

In his memoir John Cassidy tells us,
"Like most young people growing up in Donegal in the early nineteen sixties, I dreamt of one day playing for my county in an All Ireland Football Final in Croke Park. I quickly realised, however, that I had neither the natural ability nor necessary talent for that dream to become a reality. But that did not stop me dreaming.

"My introduction to Croke Park began when I was about six years old. My late father would always listen to the games on the radio: the wireless as it was known then. Each week he would bring the wet battery into Donegal town and have it re-charged.

"Electricity arrived in rural Donegal in 1959/60. Our wireless was used sparingly i.e. news bulletins and a few other important programmes which included the big matches in Croke Park.

"As every house did not have a wireless many of our neighbours' children would gather in our kitchen and listen to the late, great, Michael O 'Heir as he gave a blow by blow account of games one hundred and fifty miles away.

"Once the match was over we would assemble in McGettigan's field and replay the game. Two older boys would select the opposing teams: every one present was included which meant we often played twenty a side. As our pitch consisted of the entire field this was no problem. With the goalposts (four jackets) in place the game would begin. It would end for one of the following reasons: Hunger, darkness or a pitch invasion by McGettigan's cattle."
"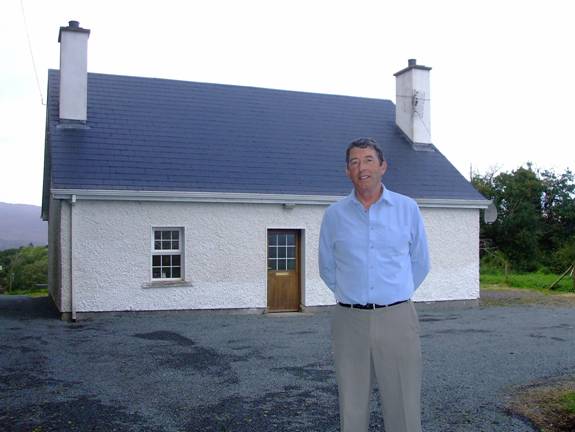 John Cassidy, facing the rising sun and Barnasmore Gap, at home in Clougher.
John Cassidy knew from an early age that Gaelic football was the preserve of (for the most part, poor) Irish Catholics. Didn't his fellow Ulsterman, author/journalist, Cormac MacConnell confess to altering the "Mc" on his birth certificate in order to show that he was born into the kind of "starving Papish family that plays Gaelic football rather than the wealthy Presbyterians of that era who played rugby.
Four decades later, in Dublin, while working as a supervisor with Dublin Bus, John recalled the words of that great American reformer and political activist W.E.B. Du Bois, who said: "The problem of the twentieth century is the problem of the colour line- the relation of the darker to the lighter races of men in Asia and Africa, in America and the islands of the sea".
Dublin Bus, employs a workforce taken from more than 50 countries and when it comes to raising multicultural awareness, not only among his colleagues but worldwide, there is none more innovative than John Cassidy. He came up with a unique idea, took it to his bosses in Dublin bus and got 100% support. Drivers, Supervisors, Divisional Managers et al did all in their power to ensure that the Donegalman's dream would become a reality. Thanks to the overwhelming support and John's foresight, tenacity, drive, Ulster cunning and cohesion thirty Gaelic players lined out on the Dublin Bus pitch at Coldcut in west Dublin at three o 'clock,on Thursday 06th November 2004. But this was to be a game with a difference. REFEREE, TOM KITT, WAS THE ONLY IRISHMAN ON THAT FIELD!
John's interest in the native sports did get him to Croke Park . . .as a voluntary senior steward. And while engaged in this capacity at the All-Ireland football final of 2005 his mobile phone rang. A man with a North American accent, purporting to represent the New York Police Department Gaelic Football Club asked John if he could field a team to play them in Gaelic Park, New York.
John was busy. Micheal Muircheartaigh was telling the world that Tyrone was beating Kerry while at the same time giving the pedigree of a centre half-back from Dingle. There seemed to be a bit of unrest on Hill-Sixteen.
John said "OK" and promptly hung up. A mixture of experience and healthy Ulster suspicion told him that the call was a wind-up. . . but it wasn't a wind-up. As the final whistle blew John's phone rang again. The same voice re-iterated the request.
Each of the three CIE companies, Dublin Bus, Bus Eireann and Irish Rail have a Gaelic Football team. And it was from these after much though, observation and enquiry that John Cassidy picked his panel of players. Peter Kearns, former Dublin hurler is Captain and Paul Curran, All-Ireland medal winner, with Meath, 1991 is Vice-Captain.
And he didn't forget Donegal; one of his key-players is Kevin O'Donnell from Ballybofey while Ciaran McStay, Ref Of the Year, 2007, will be keeping a sharp eye from the sideline.
He had a team and the next task was to select a committee. The committee was formed and it certainly wouldn't fall into Fred Allen's description which defined a committee as, "a group of men who individually can do nothing but as a group decide that nothing can be done."
Martin Kenny is Chairman.. He is also GAA Club Chairman and was prime organiser of the first CIE/ Ulsterbus inter-depot competition in 1978. He has given much valuable advice and assistance during the planning and organising of this historic trip.
Brendan Malone, who has given forty years to Gaelic games, and Keith Graham, prominent player and Meath man, are joint secretaries.
Mick Feterston, from Roscommon, was a key player on Clontarf hurling and football teams for many years is Psysio.
Tom Kitt, member of a well-known Political dynasty, referee and ardent supporter of Galway football and Damian Donovan, a loyal Dublin supporter, are joint treasurers.
Tony Doran, (retired) along with Chris Conway (Bus Eireann Inspector) forged strong and lasting links with the Police and Fire departments in New York when they organized a trip to Ireland for members of the New York Police and Fire Departments after 9/11. They were instrumental in having a lasting memorial erected to the victims of 9/11, in Donadee.
John Leonard, Chief Steward from Croke Park, is GAA Liaison Officer.
John Cassidy, the man who started it all, is Public Relations Officer. He can be contacted at: johncassidy92@yahoo.com
Kevin Fitzpatrick, CIE Sports and Social Officer, gave the committee the full benefit of his experience of fundraising.
Uncle Sam will witness the result when a planeload of players and supporters touch down at "Kennedy" on 15th October. During the following weekend they will play teams from the NYPD and FDNY.
Billy Nolan, of The Emerald Society FDNY, told me: "We here are very happy to have the CIE Football team here in October. Over the past 7 years we have had the Dublin Fire Brigade visit NYC. Mostly on the even years ('02,'04,'06,) they would come out to us and we in turn would travel to Dublin to play them. We do play for The Lord Mayor's Trophy.
So we will be ready for the CIE Lads, come October.
As of yet, we do not have any spy flim (as the N.E. Patriots) on their club, but we will be ready. Just like the N.Y. Giants. We hope to show everyone a great time here in New York, win or lose".
Francis M. Cornfard said that nothing should ever be done for the first time. Well "first" is John Cassidy's middle name. The "multi-culture" match in Coldcut in 2004 was a definite first and on Saturday 2nd February last he brought his team to Omagh to meet a team from Ulster bus at Tattireagh/ Saint Patrick's ground. It was the first time a CIE team had played north of the border. And when they grace the turf of Gaelic Park it will the first time a CIE team played in America.
Gaelic Park has a chequered and interesting history. It was purchased by the GAA in 1926. It was then called Innisfail Park. After ten years it was forced into bankruptcy and the city took over the land.
Enter John "Kerry " O' Donnell a native of Camp in West Kerry. His daughter Kerry told the following story to Weeshie Fogarty of Radio Kerry, "Paddy Grimes and Billy Snow had the lease of the ground until 1941. They were not interested in renewing so my father and another man arranged to meet the solicitor to sign the agreement and save the grounds from falling into the hands of other sports or developers. My father was the only one to turn up on the day of the meeting. Dad decided to go on his own, it was a massive gamble.
He sold some of his properties, kept thee Eight Avenue premises and with the help of family and friends he then ran the grounds. He had this huge fear that the place would be lost to the GAA and this was the only reason he decided to step in and thankfully it all worked out very well for him". The O'Donnell family is still involved in Gaelic Park. Manhattan College took it over in 1991 and in 2007 artificial turf was laid.
Dublin Bus Chief Executive Joe Meaghar said: " As a Kilkenny man, I am a staunch supporter of GAA I was very proud to play for Donnybrook and Dublin Bus in the Inter Depot and Inter Firms competitions in the 80s. It is great to see a revival of Gaelic games in Dublin Bus and CIE and I am delighted that for the first time a football team will represent us in the newly refurbished Gaelic Park in New York this October 2008. All participating can be very proud to represent CIE in these games and I wish the team every success."
When jerseys are being exchanged and the post-mortem is getting under way in Gaelic Park on 19th October ,win lose or draw, as John Cassidy stands behind the fruits of his labour, he'll be secure in the knowledge that there is no danger of a pitch-invasion by Mc Gettigan's cattle.
---
Click on author's byline for bio and list of other works published by Pencil Stubs Online.
Mattie Lennon personally recommends the following site: Kosy Kennels
---