Irish Eyes
The Small Flute
The man that hath no music in himself,
Nor is moved with concord of sweet sounds,
Is fit for treasons, stratagems and spoils.
--(Merchant of Venice.)
Whenever a gifted musician brings out an album, or even plays a tune, my feelings of inadequacy at my inability to play an instrument go into overdrive.
Jim Gornall's debut CD "The Picturesque Piccolo" certainly won't do anything to elevate the self-esteem of people like me.
Even before Strongbow landed on our shores Englishmen had been falling in love with Irish women but here's one that fell for Irish music.
The affair started in a folk club in Liverpool in 1984 when Jim heard celebrated piccolo player John Doonan play. A year later Jim, from Preston, was living in Kerry and playing the piccolo. He describes his desire to play the instrument as, "an unholy and fierce determination to spread the word".
Having long ago mastered the small wind instrument he now refers to," a truly dreadful addiction". (Didn't Milton say, "Compulsion doth in music lie"?)
Does he have any advice for the budding composer? Yes. He learned a valuable lesson when he composed his first tune, Carmel's Lullaby, and he's passing on the information free of charge; when you complete a composition (though it may be a work of genius) don't wake up your spouse early on a Sunday morning and ask them to listen to it.
Billy Connolly says, "You won't ever hear anyone saying, ' That's the banjo-player's Porche' " . Maybe not but the Irish piccolo player is frequently the victim of the double-entendre. The Italian for piccolo is flauto piccolo which means small flute.
Fiddlers and accordion players define a minor second as "two piccolos playing in unison".
Jim is modest about his talent and achievement. On the long journey since he had that "Pauline Conversion" coming out of the Gregsons Well Folk Club, in Liverool, he gives a lot of credit to a lot of people. That was the first and last time he saw John Doonan but, "his L.P.s were my inspiration and guiding light for years afterwards".
Mick Johnson, a Liverpool fiddle player, who found Jim his first piccolo, is not forgotten. Jim's son, James, who has a recording studio in Cork, convinced him to record this CD, which has something for everybody.
Apart from Jim's two compositions there are ten other tracks with names like, The Bee's Wing, The Crab's Jigs, Little Heathy Hill, The Golden Stud and many more.
And if you are a nit-picking puritan you could have a go at him for playing Madame Boneparte to a Reggae rhythm. (He gets off the hook here by "blaming" his son James for this arrangement, adding, "he came up with a couple of the most outrageous ideas".
The Little Boats Went Out To Sea" Jim found in a Manx musical book but as far as music is concerned Jim has become more Irish than the Irish themselves.
He says that his mother's maiden name was O 'Leary and that his great, great, (I got tired counting the number of "greats") grandfather was born in Ireland around 1800. So, perhaps the Kerry man who referred to him as, " . . . the fellow who plays Irish music with an English accent", was simply splitting an infinitive.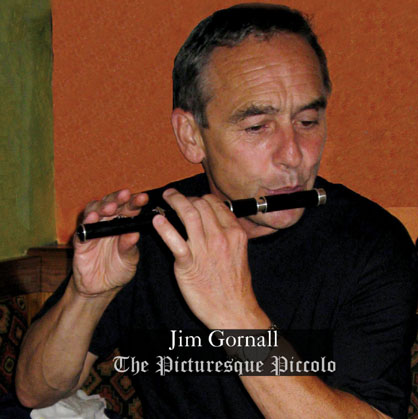 The Picturesque Piccolo is available (Price 20 Euro) from;

Zhivago Records and HMV

And from himself,

Jim Gornall,

Kilmeaney,

Kilmorna,

Listowel,

Co.Kerry.

Ph; 353 87 6680029.

jimgornall@eircom.net

His website is;

www. jimgornall.com
---
Click on author's byline for bio and list of other works published by Pencil Stubs Online.
---