Irish Eyes
MAOININ
What is a poet? And how do you know one? Dan Paddy Andy O' Sullivan once, doubting the credentials of a would-be-rhymer, said; "He hasn't the arse of a poet". According to Patrick Kavanagh; " A poet is not one of the people.....a poet is an institution".
Well. Not being well versed in the "phrenology" of the southern regions of the anatomy, I'm not qualified to comment on the diagnosis of the man with the triple name. However, of Kavanagh's assertion I would say that Dan Keane is one of the people and an institution. As John Dewey said about Ralph Waldo Emerson he is; "The poet of ordinary days".
Dan Keane was born in Carraueragh. Co. Kerry, in 1919. He tells the story of local woman Kate Casey taking him across the shortcut in her "gabhall" to have him baptized in Knockanure Church. Breige Fitzgerald, an Irish speaker, who lived with the Keanes nicknamed him "Maoinin". (When I went to consult my offspring's Gearrfhocloir Gailge Bearla it wasn't in it's usual place, between the Wicklow People and the butter. So I contacted Kerry journalist Mike Joe Thornton who translated "Maoinin" as "Little treasure".) Mike Joe went on to say; "Dan Keane loves poetry, life, the world and children. Briege Fitzgerald, bhi an cheart agat, Dan is indeed a little treasure".
This sprightly 87 year old has more hair than me, covering a head which, in the words of Michael Drayton, "... rightly should possess a poets brain."
If you spot a similarity of style between "The Last Rose of Summer" and "Heart and Heritage" you could be witnessing a genetic connection; Dan is related to Thomas Moore, the National poet. Thomas Moore's father, a close relative of Dan's great-grandfather, William Moore, hailed from Clounbrane, Moyvane.
Both of Dan's great-grandfathers were evicted from their farms during the struggle for agrarian freedom. And such deeds are not forgotten. Just listen to Dan's song "Daybreak O'r Rathea".
Everything from world catastrophes to a neighbour dozing off on a Kerry bus has inspired Dan. His works range from "The Plea Of the Unborn" to "Ice Cream Suds". "A Tribute To Eamon Keane" is as moving as "When Mammy Makes A Pie" is entertaining.
The late Bryan McMahon had this to say about him: " ......his sensitivity as a poet and ballad maker, all mark, and indeed hallmark him, as a true son of his environment and one in complete harmony with the rural background from which he sprang".
Many of his compositions have been put to music. And he who always met disappointment with fortitude and welcomed each challenge with open arms. A Limerick woman told him (no Kerry person would dare) that because nothing rhymes with Tournafulla he couldn't write a song about it. Dan went to work straight away on the first verse:
The snow on Tournafulla's fields
Was falling gently down,
To passing gales each bare bough yields,
The Allaghaun flows brown.
The flood flowed fierce by Barber' bridge,
Its white foam tossing high,
When Lo! From Glengorth's stormy ridge
Was heard a plaintive cry.
In 1996 he won the All-Ireland for the best newly composed ballad, at Fleadh Ceol Na hEireann, with "Famine Years". It was sung by Peggy Sweeney.
According to Wilfred Owen; "all a poet can do is warn". But this one can be a Master-of-Ceremonies, Shanachi, Comedian and a Historian who will not tolerate any inaccuracies in the writings of others.
If you have even a passing interest in Irish songs and/or history you will be reasonably familiar with "The Valley of Knockanure". This tragic ballad tells the story of three young men, Paddy Dalton, Jerry Lyons and Paddy Walsh,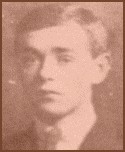 ---
left to right: Paddy Dalton, Jerry Lyons, and Paddy Walsh
---

who were shot by the Black and Tans at Gortaglanna, County Kerry on Thursday 12th May 1921. There are several versions of the song; some of which are victims of excessive poetic licence. The imagination of the songwriter was in overdrive when he wrote:
One shot from Dalton's rifle put a machinegun out of play
And turning then to bold young Lyons he said, "you get away".
Dan Keane told me, " . . . other songs came which corrupted the story . . . it was lost . . . it was trí-na- ceile . . . and even today people make a mistake in singing it, they say, 'Side by side they fought and died . . .', which is wrong. The men were unarmed".
The octogenarian songwriter is not one to complain without taking action. He has written a new song to the traditional air. On 17th September, Dan's 86th birthday, he wrote this song to fulfil a promise which he made to Jim walsh, Clounprohus, more than fifty years ago. Space doesn't permit me to quote it in full but the first verse will give you the flavour:
With love undying they stood in line, clasped hands and said goodbye,
They shouted prayers for freedom when they knew they were to die.
No order had been given, they fired in random glee,
One dared to dash for freedom; a rebel called Con Dee.
In that lonely dell three comrades fell their tortures were all o'er,
In tale and song they still live on and will for evermore.
They met their God on their own green sod with stainless souls and pure
And their red blood flowed in their last abode in the valley of Knockanure.
Louis McNiece said; "I would have a poet able-bodied, fond of talking, a reader of the newspapers, capable of pity and laughter, informed in economics, appreciative of women, involved in personal relationships, actively interested in politics, susceptible to physical impressions".
He would have found his man in Carraueragh.
---
below: Dan Keane visiting with the author.
---