Irish Eyes
From Ballinasloe to Bagdad
If you go to irelandsownradio.com you will hear the voice of Ballinasloe man, Martin Costello, introducing jigs, reels ballads and all things Irish from New Jersey. When I recently spoke to him by phone at his  home in Holmdel, he told me, " I was introduced to music at the age of sixteen by Josie O'Halloran, a music teacher. He taught me  to play the fiddle. In a short time I could play 12 tunes". He tells me, in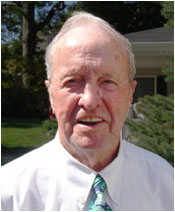 a Ballinasloe accent (only slightly Americanised despite the fact that he owned a travel agency in downtown Newark for a number of years ) "Music is one of the purest  forms of communication".
He departed for America, "with the fiddle and twelve tunes", left down the fiddle and became a drummer. He soon formed  The Martin Costello Band.  His first gig was playing for the New York City's Police Department Annual Communion Breakfast at the  Astor Hotel in Times Square. The  band went on to be very popular in New York and New Jersey, as well as  Boston and Philadelphia. "I saw the need for an Irish radio program, and established the Irish Road Show. A local radio station agreed to carry the Irish Road Show, which was heard on a weekly basis."                   
Martin traveled back to Ireland, spending three weeks recording Irish  performers all over the country.  He brought back the result to his listeners in the USA and it went down so well that the Irish Road Show became the most listened to Irish program in America.  A  U.S. Army General heard the programme, contacted Martin and asked him to consider putting an Irish program together for St. Patrick's Day 2005 to be broadcast on U.S. Armed Forces Radio and TV Network.  It was the first ever Irish program to be broadcast over AFN radio, based in Bagdad, Iraq.  It was very popular, and Martin received many compliments from the U.S. servicemen and women in the Middle East.  Armed Forces Officials say that they received more than 17,000 emails, praising the show, in the days after the broadcast.  [One said:
" Mr. Costello, I wanted to take a moment to personally thank you for the great saint Patrick's Day program" wrote army Captain Doyle Sewell from Iraq.]
 Martin says, "There is a great need for a world-wide communication system for lovers of Irish music and history, now more than ever. This can be accomplished with Web broadcasting on Ireland's Own Radio.com".
Ireland's Own Radio webcasts live every Saturday at 10 am Irish time. and if you are working  or having a sleep-on (or both) on Saturday mornings don't worry; all Martins programmes are archived and you can tune in anytime. 

They say that the best pictures are on radio. Well, if you go to Martin's ever growing picture gallery you'll find that to be the case. Avoca, Adare Manor, Carrowkenny, The Cliffs of Moher, you name it, it's there.

So, when you hear the Galway accent with, "......greetings and a hearty cead mile failte to you wherever you may be on land sea above or beyond...." you'll know you're in the right place.

If you are listening in Belmullet, Barcelona, Dubai or Duhallow the songs and music on The Irish Road Show will bring you back.
Tune in to  www.irelandsownradio.com
---
Click on author's byline for bio.
---