Irish Eyes
" The slogan of progress is changing from the full pail to the full garage". (President Herbert Hoover).
On Monday 25th March 1974, I reported to Donnybrook Bus Depot to start my week practical training as a bus Conductor. As I went through the "new-garage" section of the building I didn't know I was walking through history. The building itself was an innovation, being the first of its type in the world.
When the prospect of this radical building was first mentioned to architect Michael Scott in 1944, he contacted a Danish Engineer Ove Arup and persuaded him to set up an office in Dublin. Scott believed that engineering in Ireland, at the time, was not up to European standards. Arub was responsible for supervising the engineering of the building, designed by Scott's practice. Scott was ahead of his time in the field of design and Arup was known for his original ideas in concrete construction.
Donnybrook Garage was the first building in the world with a concrete shell roof, lit completely by natural light. Each "shell" was poured in situ using large wooden moulds, which were then dismantled, reassembled and moved on to form the next bay.
The building was completed in 1952, and a half century later I did a bit of snooping to find out what happened to the moulds. In this case "the mould was broken" on the advice of a senior Civil Servant named Dan O'Donovan. (There goes my idea of replicating Donnybrook Garage in Kylebeg; no matter what Seamus Brennan says).
Mr. O'Donovan was later chosen to oversee the building of Busaras; an appointment, which underwhelmed Michael Scott. The roof form, with its decorative ribs, dictates the external elevations. Have a good look the next time you are upstairs on a 46A. It was originally coloured in a grey and yellow paint scheme designed by well-known artist Patrick Scott.
Donnybrook Interior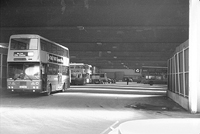 In the twenty-first century the garage interior is still imposing, devoid of columns or internal walls.
On Friday 27th May 1955, there was a fight in Donnybrook Garage. No, this wasn't a disgruntled driver throwing a dig at the Depot man because he didn't get his Rest day; or a Conductor cutting loose on a workmate.
It was a European Title fight. Ray Famechon, of France, holder of the European Featherweight Title fought 23 year-old, Billy Kelly, from Derry. Famechon had fought Willie Pep for the world title in 1950 but lost.
Although he held the European Featherweight title Famechon had lost to Duilio Loi in a bout at lightweight three months before he fought Kelly.
The Derryman, Kelly, who won the British and commonwealth featherweight title in 1954, recently received second annual Sacred Heart Cuchulainn award (summer 2003), in recognition of his services to Irish Boxing. By winning the commonwealth featherweight title in 1954 against Ray Ankrah, Kelly became the first man to win a title that was previously held by his father.
The fight in Donnybrook went thirteen rounds and when, at the end, Famechon's hand was raised the booing lasted ten minutes. Only a very, very small minority of the 6,750 spectators agreed with the referee, Dutchman, Barend Bergstroem.
If, as Frank Bruno claims, "Boxing's just show business with blood" then this was a Gala performance with sideshows to suit all tastes. Mr. Bergstroem was attacked as he left the ring and given Garda protection in his dressing room. In the next day's papers sports correspondents unanimously agreed with the crowd and not the referee.
In the Irish Independent Mitchel V. Cogley said, "From the way he fought the last three rounds, I cannot help feeling that Famechon too thought that the verdict must go against him, for he forsook all semblance of boxing and threw all he had into a wild onslaught that seemed inspired by desperation".
Whatever about disagreement with the referee's decision, all concerned was at one about the suitability of the venue.
When researching this piece I spoke to boxer, pole-vaulter, biographer, playwright, poet, Barrister and very helpful encyclopaedia of source material, Ulick O'Connor. The man of many parts expressed surprise that Donnybrook garage has not since been used for any major fights. He says: " Billy Morton created a whole new audience for athletics in Ireland both at Landsdowne Road and College Park. It is somebody like him who would be needed to mount another world title fight in Donnybrook garage".
Donnybrook Garage